The EBP23 is a 'brushless' 12 volt, high flow (23 litres / 6.08 gallons per minute), magnetically driven water pump. The EBP motor has no brushes to ever wear out and the pump is magnetically driven by the motor, which means that no shaft sealing is required. The many EBP applications include: booster for car heater and LPG systems, solar pump applications, water cooled motorcycle, go-kart engines, turbo air / water intercoolers & household irrigation.
The EBP®23 is designed to complement your existing Davies, Craig EWP (Electric Water Pump), or belt-driven mechanical water pump, or improve your heater and/or cooling system or assist engine block cooling circulation. The EBP can continually circulate coolant around the engine head, block and by-pass. It has a high flow capacity and has the advantage of running at a speed independent of the engine speed. The EBP® can also be set to continue running with a timer or thermal switch (not supplied) after engine shut down to prevent damaging heat soak.    

Technical Specifications    
Motor     12V Brushless
Operating Voltage      9V to 15V DC
Max Current Draw      1.1 Amps
Pump Design      Recirculating * Centrifugal
Drive      Magnetic – No seals
Operating Temperature      -40C to +120C
Burst Pressure      250Kpa (36PSI)
Flow Rate    23 L/min (6 gal/min)
Head Pumping Pressure    0.25 Bar 3.62 PSI
Self Priming    No
Weight         364g (0.8 lbs)
Max Head    2.2M
    
Kit Contents    Units
EBP23    1
EBP Adaptors Reducer (19mm to 12mm)    2
Adaptor Hose (19mm)    2
Hose Clamps    4
Mounting Brackets     1
Installation Instructions         1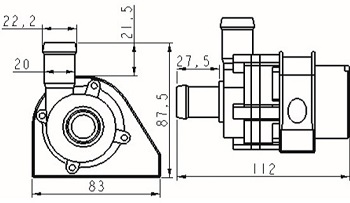 The compact EBP23 has been designed for a number of applications;
Circulation Pump for LPG Vehicles – The EBP improves water circulation through the engine block to prevent LPG injector from icing up. Other advantages include a more even engine temperature and better engine cooling.
Heater Booster Pump – The EBP increases heater performance during normal vehicle operation and enables continued heater usage when engine is off (but IGNITION is ON).
Water Pump for Liquid Cooled Motorcycle Engines - The EBP provides liquid circulation independent of the engine speed to provide cooling at all levels. It may be used with the
Digital Controller to replace the existing water pump or used with an override switch to compliment the existing system.
Multi-Purpose Pump – The EBP may be used in a number of different applications where flow is required, such as irrigation, camping, solar pumps, go-karts or marine operations.