Price Includes GST
Reversible castors and doors - Side cabinet can be used on either side of the hutch and roller cabinet combo
Heavy duty steel wall construction
Built-in power board cable access ports
Internal locking system for extra security
2x extreme duty castors
UV powder coating resists scratching
Large volume closet compartment with clothes hang rail
3x fixed shelves
*Note: These side cabinets only suit the USA Sumo Series roller cabinet and top hutch combos.
 SP44885

STACKABLE STORAGE
SP makes it easy to expand your tool kits storage as the time comes.
SP's range of USA Sumo Series side cabinets are designed to easily fit to the sides of both 59" and 73" USA Sumo Series roller cabinets and top power hutch combos.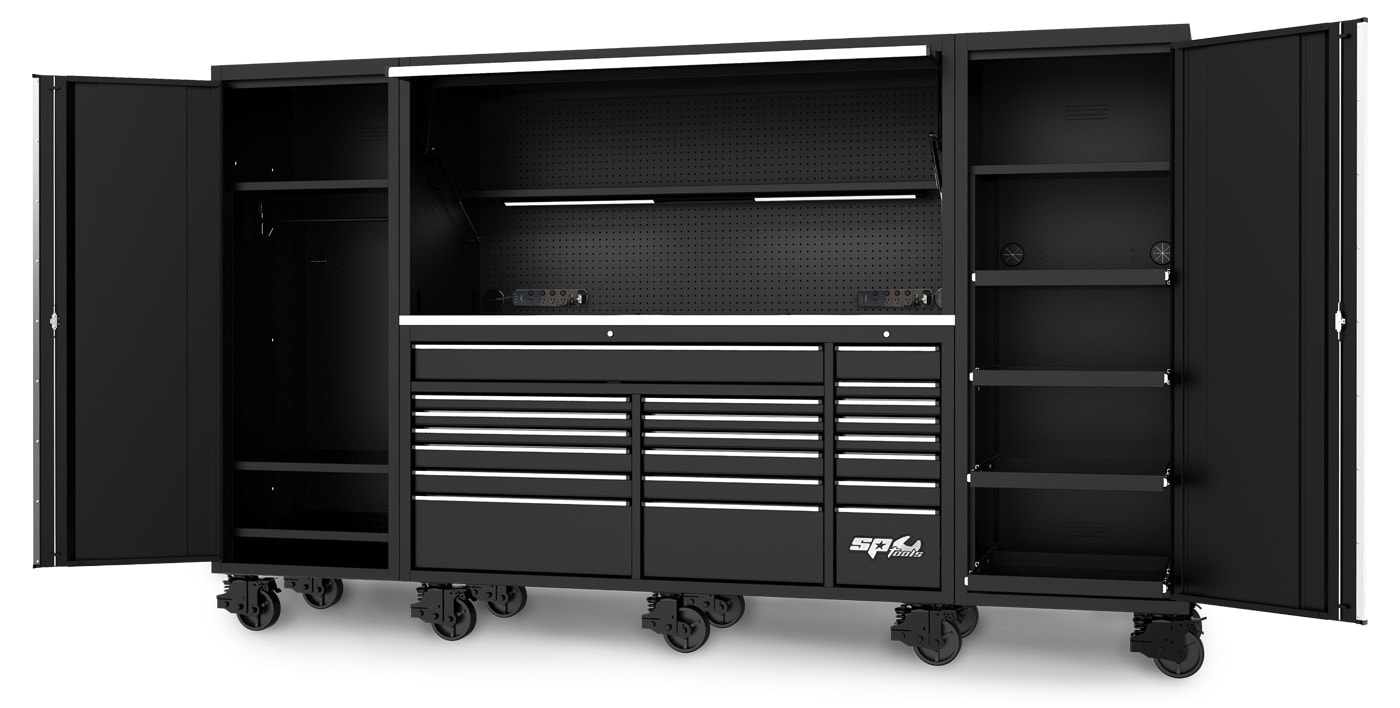 NEW FEATURES ACROSS THE RANGE
DOUBLE WALL SUPER DUTY CONSTRUCTION - all USA Sumo Series boxes use 1.5mm (14.5ga) steel construction as standard. That's more steel than like for like competitors
EXTRA HEIGHT - technicians seem to be getting taller every generation. SP Tools has stepped it up and increased the head clearance height on our USA Sumo Series Hutches. We have set the new clearance at 1855mm (6'1").
ON-BOARD POWER - charge and store all your cordless tools, lighting, and diagnostic equipment. SP Tools has created a unique on-board magnetic attachment system so you can move and use your power where ever you need. 
SUPER DUTY CASTERS - all USA Sumo Series storage system use the unique spring-loaded super duty caster. Each caster is capable of supporting 400kg.
SP MAX BBS DRAWER SLIDES - the drawer slides in the new USA Sumo series have lifted us to a new level of capacity over and above our existing BBS. They are rated at 60Kg per drawer and 120kg per drawer on the wider and deeper drawers
SP ONE-TOUCH CLIKLOK - the new drawer retention system has an easy one touch single handed release and open function. The perfect combination to keep the drawers securely closed, but easy to open
UV POWDER COATING - the USA Sumo Series uses the latest technology in Ultraviolet (UV) powder coating. We have combined the advantages of thermosetting powder coatings with those of liquid ultraviolet cure coating technologies.