Code: SP44825
Heavy duty steel wall construction
Stainless steel work top
Extra long deep top drawer
Triple drawer bank
Soft Close drawers with heavy duty full extension ball bearing drawer slides
SP Cliklok drawer locking system ensures drawers stay closed and secure Internal locking system for extra security
Extreme duty spring castors - 2x lockable swivel
Top drawer load weight: 120Kg
Standard drawer load weight: 60Kg
Bottom drawers load weight: 120Kg
STACKABLE STORAGE
SP makes it easy to expand your tool kits storage as the time comes.
This roller cabinet can be combined with a powered top hutch and two side cabinets.
Full Combined Dimensions: 3250w x 622d x 1752h (1954h with castors)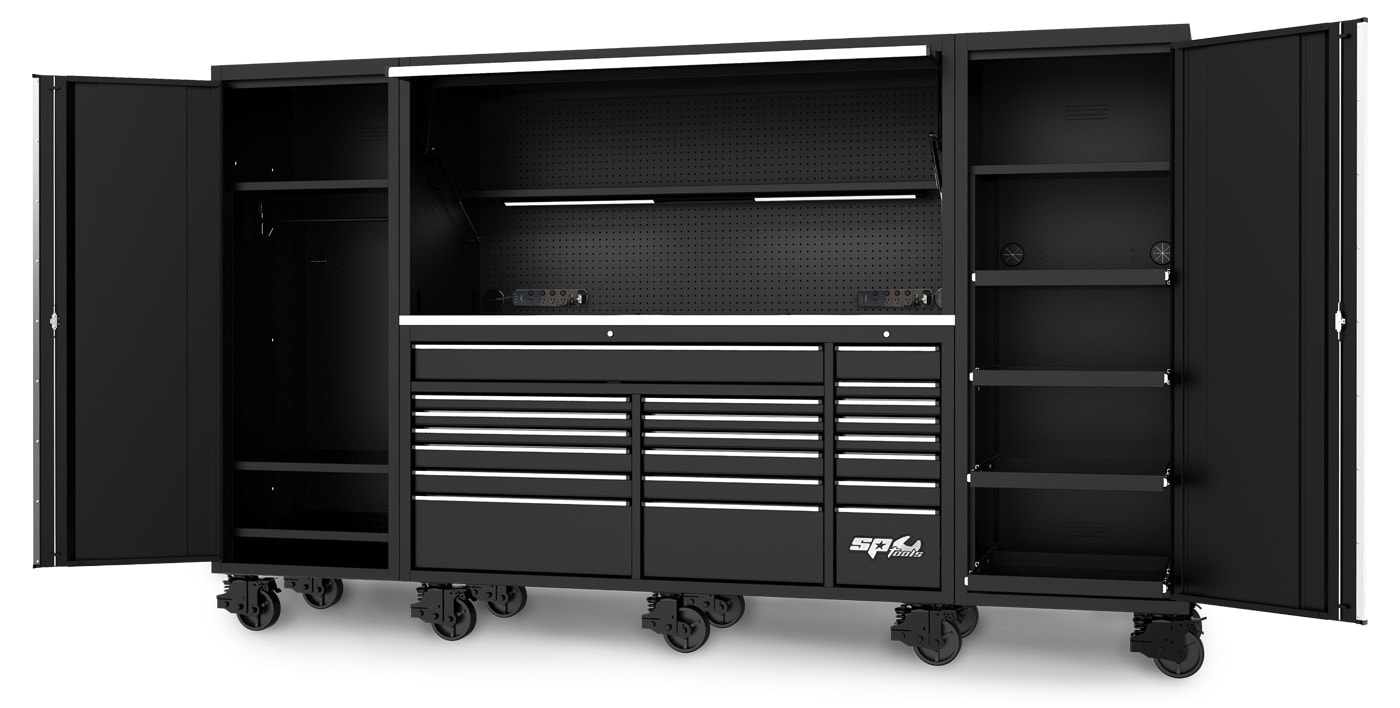 MAGNETIC MOUNT POWER BOARD
UNIQUE TO SP TOOLS
Position your power board anywhere on your tool kit.
All USA Sumo Series  top hutches and side cabinets include several built-in cable access points, strategically positioned to allow you to power or charge your tools and USB Powered devices as conveniently as possible. Each power board includes 4 individually switched surge protected power outlets and 4 USB ports.
NEW FEATURES ACROSS THE RANGE
DOUBLE WALL SUPER DUTY CONSTRUCTION - all USA Sumo Series boxes use 1.5mm (14.5ga) steel construction as standard. That's more steel than like for like competitors
EXTRA HEIGHT - technicians seem to be getting taller every generation. SP Tools has stepped it up and increased the head clearance height on our USA Sumo Series Hutches. We have set the new clearance at 1855mm (6'1").
SUPER DUTY CASTERS - all USA Sumo Series storage system use the unique spring-loaded super duty caster. Each caster is capable of supporting 400kg.
SP MAX BBS DRAWER SLIDES - the drawer slides in the new USA Sumo series have lifted us to a new level of capacity over and above our existing BBS. They are rated at 60Kg per drawer and 120kg per drawer on the wider and deeper drawers
SP ONE-TOUCH CLIKLOK - the new drawer retention system has an easy one touch single handed release and open function. The perfect combination to keep the drawers securely closed, but easy to open
UV POWDER COATING - the USA Sumo Series uses the latest technology in Ultraviolet (UV) powder coating. We have combined the advantages of thermosetting powder coatings with those of liquid ultraviolet cure coating technologies.